For someone diagnosed with OSA, a good night's sleep can mean a world of difference between enjoying the next day or struggling just to get through it.
Philips Respironics advanced System One sleep therapy system has been carefully developed to know when, why and how to provide you with just the right therapy and continuous comfort to help you enjoy restful sleep and more productive days.
Through advancements in software algorithms, humidification management as well as combination of proven technologies, System One thinks for itself, carefully monitoring and recognising when your therapy needs are changing. It knows how to maximise your comfort and provides your clinician with the essential information they need to manage your CPAP/BiPAP therapy.
System One provides the latest technology in sleep apnoea treatment. With the enhanced platform, the System One navigation is friendly and easy to use with its turn and push button.  Night time viewing is accessible through touching the wheel or the ramp button which will illuminates the screen and automatically turns off after 30 seconds.  This new back-lit screen made it easy for patients to see System One's interface no matter how dark is their bedroom.
Philips Respironics System One brings key intelligent technologies together in once device through its new enhanced platform.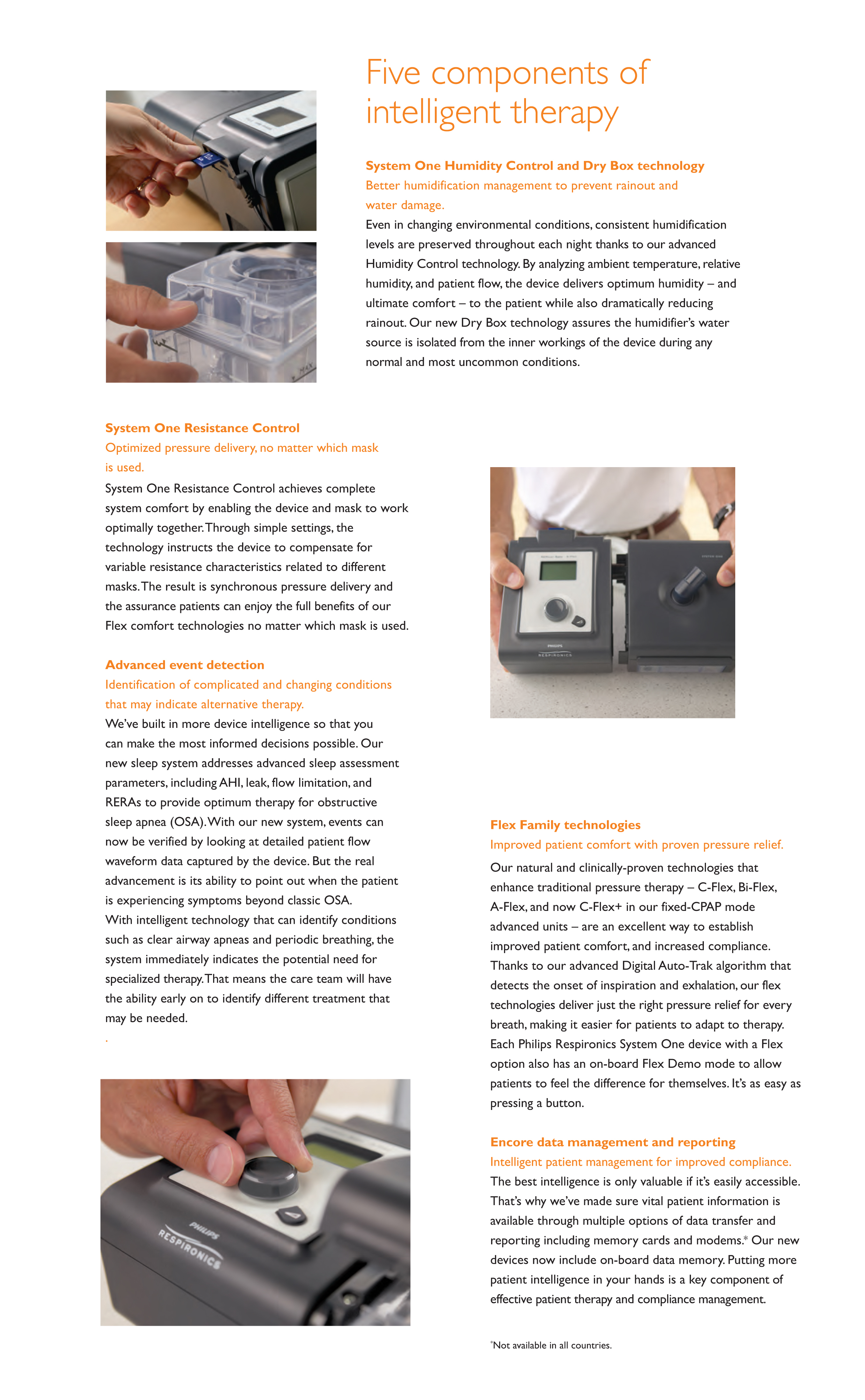 In addition to the enhanced features and appearance of Philips Respironics System One, they have also built in even more quality and durability while providing patients with the same exceptional product and sales support. It is why System One still remains an intelligent choice preferred by most people.
System One quality comes through
Among the quietest sleep therapy systems available
Water ingress protection thanks to the design of the water chamber and the Dry Box technology
Durable, easy to connect, top-mount tubing connections for an exceptional customer experience
Commitment to quality excellence has earned Philips Respironics the prestigious 2011 Manufacturing Plant of the Year by Assembly Magazine
Philips Respironics System One Overview
Philips Respironics System One With Heated Tube Overview